Preface
If you access the link to the recording it would be great if you would just leave a short comment on this post to let me know. I would really like to know if it is useful to people when I post the overviews & recording links
Introduction
This was a timely session, recorded as usual. The choice of topic was class blogs and there are two blogging events relating to this that are either underway or soon to start. The first of these is the Teacher Challenge the current challenge is getting started with blogging – its not too late to join this challenge right now if you want to! The next challenge will be getting students started with blogging in preparation for the Student Blogging Challenge itself.
The Session
We started the session by sharing the links to our own blogs, and talking a little about class blogs. In my opinion (and I think that of many others) no-one gives better or more comprehensive information about blogging with students than Sue Waters of Edublogger fame. So logically as we didn't have Sue with us the next step was to use Application Share and share some of her fantastic posts on class blogs and student blogging. The posts gave us the answers to many questions on the whys and wherefores of class blogs and students' own blogs.
Conclusion
A really interesting session where the focus was very much on knowing where to find what we wanted to know rather than anyone knowing a huge amount about the topic.
Our Next Session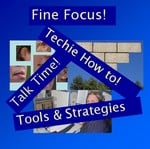 Our next Webinar is an Edublogs "Fine Focus" session. This week in "Graphic Organizers – Stimulating Our Learners' Minds"  Shelly Terrell will give us a heads up on some online graphic organizers and cool websites for collaborative mindmapping. She will also share tips on integrating graphic organizers to stimulate discussion and support discovery learning.  Join us on Thursday Jan 27th at 23:00 GMT/UTC (6pm USA EST, Midnight CET) or Friday Jan 28th at 7am West Aus, 10am NSW, depending on your timezone – in the usual Elluminate room
In the Future
If you are a regular visitor to our webinars you will know that we alternate "Fine Focus" sessions on specific topics with "Serendipity" the unconference sessions where we choose a topic by poll at the start of the session. Sometimes the very fact of being asked for "hot topics" or other ideas for discussion or learning tends to make our minds blank. This has prompted me to start a Serendipity Wallwisher for topic suggestions. Please visit the wall and add your ideas for Serendipity topics so that we have more choices to consider. Some of these ideas might also form the basis for future "Fine Focus" sessions.