Introduction
This session (recorded here)  was great fun! Despite loss of Internet at our end in the early stages. Our system (ie that of myself and Phil Hart) has been so reliable for the last couple of years that I had become a bit complacent and was out of the habit of automatically giving someone else Moderator status in case of problems.  Suffice it to say that our connection came back up just as Phil was starting our backup satellite link. We returned to the session where everyone, with great confidence in our imminent return, had continued chatting. I instantly gave Moderator status to another participant. As a result of this I will make a big effort to revert back to my former practice of giving  someone else Moderator status in each session. In the early days of these sessions I tried to rotate the extra moderator around fairly regular participants. I think that doing this is very good practice anyway as it gives people a gentle introduction to the role and an opportunity to see the extra tools that are available to Moderators.
Overview of the webinar
Hot Potatoes (download from here) is a free easy to use application for developing simple interactives. These can be saved in one or more of several different ways including SCORM compliant and webpage formats. It is one of several free applications that I use regularly to create activities that I can upload into our Learning Management System (LMS).
I followed my usual practice at the start of trying to get a "feel" for where everyone was "coming from" on Hot Potatoes. On this occasion it seemed that most people were relatively unfamiliar with it. I also made a brief comparison with two other freely available applications that I also use: ARED (downloadable from here ) developed several years ago with Australian Flexible Learning Framework funding; and eXe (available here) developed collaboratively in New Zealand.
We had a very brief look at the types of activity that can be created.
Then we moved on via a Web Tour to our (mine and Phil's) Moodle playground where we had uploaded some activities (taken from those I use with my literacy and study skills students). This gave everyone the opportunity to try out a few activities from the student perspective by logging in as "Guest" and accessing them through "Hot Potatoes 101".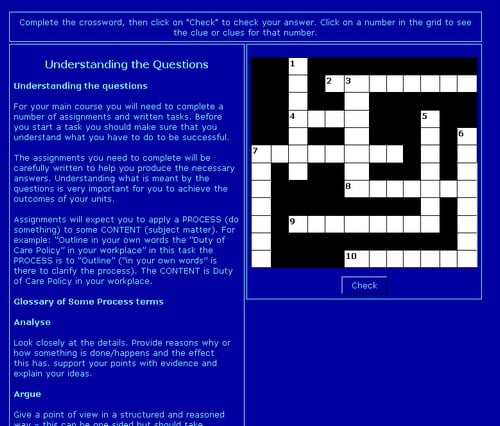 Having seen some activities from the student perspective we moved on to make an activity. The consensus was to collaboratively produce a quiz. For this I used Application Share – shared part of my desktop, started the JQuiz Hot Potatoes quizmaker and gave volunteers control of the application to write a question each.
Conclusion
As we reached the end of the session there was lively discussion in text about the features of Hot Potatoes; the potential for use in different ways including giving students opportunities to create activities themselves and a brief consideration of whether the application does anything you can't do with pencil and paper. This has given me food for further thought and has generated a discussion topic to form the basis for our next Fine Focus session in 2 weeks time.
Despite the messy start due to the Internet glitch the feedback was positive and I was reminded yet again how much people like the opportunity to try things out in the session. This, as always, reinforces my desire to keep "improving my act" and thinking of more ways to include interactivity in webinars.
Next week
Our next Webinar is an Edublogs Serendipity – unconference session so bring along your hot topics and burning issues (what makes you spit with anger or thump a tub with passion) and throw them into the melting pot for the poll to choose our topic in the first ten minutes.
Join us on Thursday April 15th at 23:00 GMT/UTC (7pm USA EST, Midnight BST) or Friday April 16th at 1am CEST,7am West Aus, 9am NSW, depending on your timezone – in the usual Elluminate room
.