Introduction
Again a Serendipity session where we didn't vote on a topic! When we are only  very small group as has been the case often lately it works well for us to briefly visit several topics. This week we looked a "reading to dogs", "why great programs/apps close" and 2stC expectations in a digital age. As always we recorded the session.
(For the link for live webinars and info about the times and topics scroll to the bottom of this post)
The session
This was an interesting session starting wih a look at "reading to dogs" a fascinating topic shared by @jofrei about "Reading Assistance Dogs" who help reluctant readers with reading aloud by being non-judgemental listeners. Jo shared a number of links, and this caused us to widen our thoughts into other animals as "assistants"
We then moved on to consider some possible reasons why what we feel are great programs/apps disappear or are changed beyond recognition by being taken over.
An offshoot from this included thoughts on the proliferation of new apps many of which seem to be very similar in purpose and which often don't last long. My own leanings are towards using Open Source apps maintained by the community. This is because it appears to me that anything small and commercial that is good is immeditely a target for takeover by one of the giants in the field. It is then either shut down because it was a competitor or changed beyond recognition in the name of re-badging. These closures of good apps also raise issues about loss of personal data that has been uploaded and/or the complexities of removing it and transferring to a new platform. This provides a strong argument for having everything backed up in the "down here" and not just up in the cloud.
Our final very briefly visited topic was about the continuing existence of 20th Century expectations/methodologies being applied to assessment of learners who are learning using digital technology. This raised questions about: the time spent teaching the students how to use the tech tools instead of working with content; and the fact that students no longer need to learn and regurgitate content but must instead be able to evaluate information that they source from the Internet and make informed judgements on its reliability. This is definitely a topic for a full Finefocus session in the future!
Conclusion
As always a fascinating session – we almost forgot to stop at the finish time! These flying visits to several topics in a session are fun, and they work well with a small group.
Our Next Session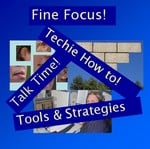 Our next Webinar is an Edublogs "Fine Focus" session. In this session Phil Hart (@philhart) will take us on an introductory look at e-publishing in "E-publish or be e-damned".  Join us on Thursday August 23rd at 23:00 GMT/UTC the time for you will vary depending on your timezone (check yours here) Thursday afternoon/evening in the USA, late night Thursday in Europe, and Friday morning August 24th in Australia – in the usual Blackboard Collaborate virtual room.