Introduction
This recent recorded session was Part 1 of another of Jo Freitag's (@jofrei) excellent sessions about aspects of working with 2E learners. For those of you as bemused by the term as I was when I first encountered it, this is "shorthand" for "Twice Exceptional" and refers to learners who have a disability/disorder and are also identified as gifted in one or more areas.
The session
Jo started with  started with  look at where we were coming from on 2E  students and a recap on the meaning of the term. She then moved on to start describing contrasting (perceived positive and negative)  characteristics of 2E students that can pose challenges to teachers. 
Jo left lots of inviting white space around her images for us to add our ideas on strategies to overcome the weaknesses either by capitalising on the strengths or in other ways. The discussion on the whiteboard, in text chat and through audio was totally engaging! We "visited" around half of the characteristics leaving the remainder for the next session.
Conclusion
A fantastic session! Time flew by and we finished with appetites well whetted for the second part next week. If you missed the first session then catch up with the recording and join us for the second exciting episode (see below for time/date).
If you have something  you would like to present a webinar on please let us know (add a comment to this post, or Tweet us – @JoHart or @philhart).  Then join us to facilitate a session about your e-edu passion! If you are not familiar with BlackboardCollaborate we can help you plan how best to do your session so it works for you. Our sessions are small and friendly – the ideal setting for your first webinar.
Our Next Session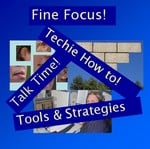 Our next FineFocus webinar is the Second Part of this session on the Characteristics of 2E students where @jofrei will continue to keep us busy considering how we can best meet some of the needs arising from the distinguishing characteristics of 2E students. Join us on Thursday November 29th at 23:00 GMT/UTC the time for you will vary depending on your timezone (check yours here) Thursday afternoon/evening in the USA, late night Thursday in Europe, and Friday morning November 30th in Australia – in the usual Blackboard Collaborate virtual room.