Introduction
The chosen topic for this session was a bit of a blend because we had a larger than usual selection of topics we combined two similar ones "Class based projects" and "Sharing projects with other classes around the world".  This was a terrific session recorded as usual, and with many ideas shared on the whiteboard, in text and through audio.
The Session
We did a double poll as we had more than five possible topics and then were able to combine  the most popular as they were about projects. This was a very lively session with lots of discussion through the whiteboard, in the text and via audio.
There were also a number of references to and links for projects just starting or already in progress and also for some former ones. Some (hopefully most) of those mentioned in the session are given here!
Student Global Blogging Challenge
Kindergarten Postcard Exchange!
Conclusion
This session has made me think again about some of the activities I have done with my regional students in the past (for example a publicity or tourist leaflet for their own community) and how we might take this global. I was also interested in how many of the ideas were based around non-tech ways of sharing but further enhanced by the inclusion of an "e"-facet.
Our Next Session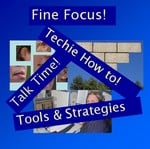 Our next Webinar is an Edublogs "Fine Focus" session this week something very different. "Try a new small e-toy!" in which we will take a look at some small and useful "e-toys" we might use with students and share our thoughts about them. Join us on Thursday August 25th at 23:00 GMT/UTC the time for you will vary depending on your timezone (check yours here) Thursday afternoon/evening in the USA, late night Thursday in Europe, and Friday morning August 26th in Australia – in the usual Elluminate room