Introduction
The chosen topic for this session was "Essential questions". The term was new to me although the concept was not As always the session was recorded and with a good blend of audio, text and whiteboard is well worth catching.
The Session
We had several topics to choose from this week and the choice of "Essential Questions" was intriguing for me as I was unfamilar with the term – however the early discussion revealed that these were the driving questions of inquiry based learning.

During the session we used three whiteboards:
An intial one with some ideas about  the need for essential questions and how to provide professional development for others in developing those questions.
The second one was a brief foray into developing some essential questions
The third one was our "takeaways"
Because we were using audio and textchat to a large extent the whiteboards have perhaps less than usual of the session content.
Conclusion
This session certainly gave me and I think other participants food for thought. Mulling over the session afterwards I was thinking about the many skills that students need for this kind of learning and in retrospect I don't find it suprising that the majority of resources that I use myself are what I would term "guided discovery" in that I provide a framework and scaffolding using a "research" model to support students in developing the skills.
Our Next Session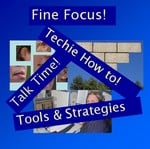 Our next Webinar is an Edublogs "Fine Focus" session in which Jane Curry (@parrpakala) and some of her English Language students will join us. Jane will show us how she is using the class blog and other e-tools to help her students with English, and the students will answer some of our questions!   Join us on Thursday August 11th at 23:00 GMT/UTC the time for you will vary depending on your timezone (check yours here) Thursday afternoon/evening in the USA, late night Thursday in Europe, and Friday morning August 12th in Australia – in the usual Elluminate room