Introduction
Apologies all for the delay in publishing this overview – a combination of #RSCON3 at the weekend and preparing professional development sessions for colleagues has kept me from finishing this post. This was an incredibly useful session at least for me! I am frequently irritated by videos that take forever to load when I click on them and as a consequence I rarely view embedded videos. Although the purpose of this session was to explain how to re-size videos appropriately so that they could be used practically in a virtual classroom eg Elluminate context I think that there are much wider applications for anyone uploading video for others to view. Phil did a brilliant job particularly as he was also coping with the idiosyncracies of the Elluminate replacement – Blackboard collaborate. Checkout the recording for the full session.
The Session
Throughout the session Phil showed us, and discussed, a number of examples of different sized files and talked about the impact on resolution. One of the issues we face with video is the need for trade-offs between size on the screen and file size which affects download time.
Next there was quick look at some of the file formats in use with reference to the need to choose one of the very common ones to ensure that the majority of viewers will have an appropriate player. We were introduced to Phil's favourite video player/converter – the VLC Media Player – a free download.
The formal part of session ended with a demonstration of the conversion process and a look at the need to experiement a little to find out what works best. However there was some continuing discussion and experimentation with the new Blackboard Collaborate interface – including a collection of images posted on the whiteboard.
Conclusion
I know I will refer back to the content of this session because one of my objectives for the near future is to explore and use video more often. Because of issues with bandwidth and download costs for my students it has always been something I have tended to avoid apart from occasional links to pre-existing videos. However if I can produce videos that are not too demanding on infrastructure I will use them more because they can add an extra dimension for my students.
Next Webinar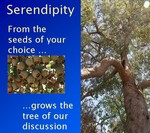 Our next session is an Edublogs "Serendipity" session on Thursday August 4th at 23:00 GMT/UTC (Afternoon/Evening USA) or Friday August 5th at 7am West Aus, mid morning Eastern States Aus depending on your timezone (check yours here) – in the usual Elluminate room. This is one of our fortnightly unconference sessions where we invite you to bring along your "hot topics" and "burning issues" for our poll on the topic