Introduction
Exciting news – I have been holding this post awaiting confirmation that our next webinar will be @suewaters talking about RSS – see bottom of page for details!
My apologies in advance to anyone who accesses the recording – I was slightly late starting it so the poll itself is not recorded. This is almost certainly because I was being distracted by the fact that immediately after the webinar I was going to be the primary Elluminate Facilitator/Moderator for a major regional consultation involving focus groups with participants moving between several rooms and whiteboard roaming. All of the other focus group sessions around the country have been done face-to-face so this was very much a first. It went well – probably more of this in a later post!
In this recorded session – please let me know if you access the recording – the topic chosen was: "What can we learn from gifted learners?" As Serendipity sessions often do this diverged a little out of the topic into surrounding issues.
The Session
We started with the discussion question posted on the whiteboard. This first generated another question "What do we mean by gifted learners?" This gave rise to some interesting thoughts and ideas that addressed this very clearly, and also made some excellent points on the incorrectness of perceptions and stereotypes that exist.
The whiteboard was left in place throughout and some later additions were made but most of the lively discussion that followed was through textchat and audio. We digressed at times into consideration of  issues around the perceptions of some teachers when they encounter gifted students.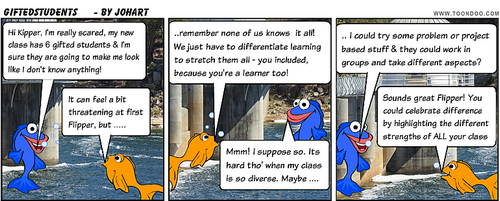 We also talked about issues around diversity and student reluctance to be identified as different in any way from peers.
Conclusion
This was a great session with lots of  ideas shared. The discussion flowed well in textchat and audio so that time flew by and the end came all too soon!
Our Next Session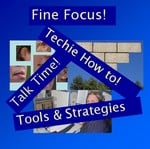 Our next Webinar is an Edublogs "Fine Focus" session.  In this week's session "RSS – your connection to the globe"  Sue Waters (@suewaters) of Edublogger fame will share her insights on how to use RSS to keep up with your global connections. Join us on Thursday April 7th at 23:00 GMT/UTC the time for you will vary depending on your timezone (check yours here) Thursday afternoon/evening in the USA, late night Thursday in Europe, and Friday morning in Australia – in the usual Elluminate room
In the Future
If you are a regular visitor to our webinars you will know that we alternate "Fine Focus" sessions on specific topics with "Serendipity" the unconference sessions where we choose a topic by poll at the start of the session. Sometimes the very fact of being asked for "hot topics" or other ideas for discussion or learning tends to make our minds blank. This has prompted me to start a Serendipity Wallwisher for topic suggestions. Please visit the wall and add your ideas for Serendipity topics so that we have more choices to consider. Some of these ideas might also form the basis for future "Fine Focus" sessions.