Preface
If you access the link to the recording it would be great if you could either tweet me (@JoHart) or leave a short comment on this post to let me know. I would really like to know if it is useful to people when I post the overviews & recording links
Introduction
The purpose of this session was to take a look at one of my favourite online tools, the cartoon making site ToonDoo. I use this a lot both for learning resources and to engage my students in developing texts.
The Session
As usual the webinar was recorded and we began with a look at what people would like to gain from the session and finding out who was familar with Toondoo. This led smoothly into an opportunity to share links for other cartooning websites.
We moved on to look at a couple of the ways I use ToonDoo both for learning resources and for students to create their own visual texts. Then came the really fun bit, using Application Share to share the Toondoo website and to jointly make a cartoon. I asked for volunteers to build a cartoon and gave control to several people in turn. The resulting cartoon is here: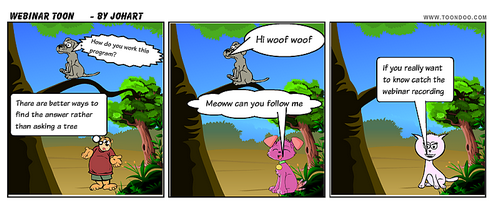 Following the successful use of "homework" last week when we went away to make Vokis. I thought maybe a similar homework this week would be fun. So we invite anyone who was at the session (or in fact anyone who reads this post/watches the recording) to make a ToonDoo and either Tweet the link or put it in a comment to this post. Then we can all enjoy. 🙂 We already have one person @jofrei who has completed the homework with her 'toon entitled Webinar Toon
I was rather hoping I would not be expected to do any homework this week but decided that it is always fun to make cartoons so here is mine. I have cheated a bit in that this is one is one I needed to make for the Induction disc I am developing for my online literacy students. I'm trying to underscore the information on digital safety and digital identity with cartoons.
Conclusion
I enjoyed presenting this session very much. Partly because it felt very interactive with lots of particiption and partly because I like "playing" with ToonDoo. I also think that these sort of combined "techie how to" and "teaching strategy" webinars are a good combination. This is because sometimes learning about a great tool is not enough in itself – ideas on how it can be used/applied in a learning context are really helpful.
Next Webinar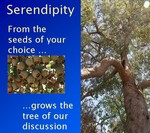 Our next session is an Edublogs "Serendipity" session on Thursday March 17th at 23:00 GMT/UTC (6pm USA EST, Midnight BST) or Friday March 18th at 1am CEST, 7am West Aus, 10am NSW, depending on your timezone (check yours here) – in the usual Elluminate room. This is one of our fortnightly unconference sessions where we invite you to bring along your "hot topics" and "burning issues" for our poll on the topic of the day. If you want to propose a topic in advance then visit the Serendipity Wallwisher and add your topic.
In the Future
If you are a regular visitor to our webinars you will know that we alternate "Fine Focus" sessions on specific topics with "Serendipity" the unconference sessions where we choose a topic by poll at the start of the session. Sometimes the very fact of being asked for "hot topics" or other ideas for discussion or learning tends to make our minds blank. This has prompted me to start a Serendipity Wallwisher for topic suggestions. Please visit the wall and add your ideas for Serendipity topics so that we have more choices to consider. Some of these ideas might also form the basis for future "Fine Focus" sessions.