Introduction
In this Edublogs Fine Focus session (recording here) We took a look at the way conferences have changed/are changing and the pros and cons of  the tradional compared to the new style for participants. This topic was triggered by the number of virtual conferences I have participated in as attendee or presenter this year compared with the fact that I have attended no face-to-face ones at all.
The Session
We started with a look at our own perceptions of what constitutes a "new" style conference in comparison to what typifies the "old" style conference.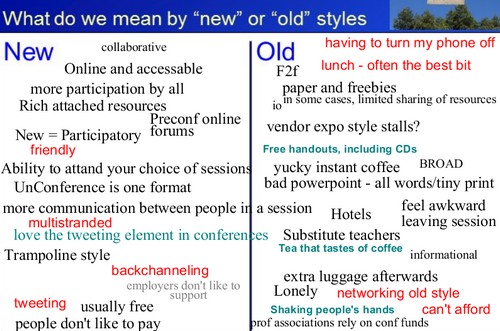 We also did a quick poll on what sort of conferences (if any) we had attended this year. After sharing our various understandings of old and new style conferences. We moved on to consider what we felt were the advantages and disadvantages of each. This provided food for thought and certainly raised a couple of advantages of the traditional style that hadn't occurred to me. Personally I love virtual conferences as they allow me to "conference" in comfort from home & make it much easier for me to attend global events.
Conclusion
This session was very active as everyone had lots of ideas about new and old style conferences. For the full "flavour" catch the recording. On a personal basis I'm not sure I did a very good facilitation job on this Fine Focus, I didn't have much time to prepare and was also a bit distracted by the fact that I was due to present at the online Global Education Conference #globaled10 an hour after the end of the session. Of which I will be posting soon.
Next Week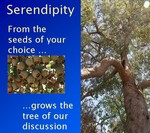 Our next Webinar is an Edublogs "Serendipity" session, one of our fortnightly unconference sessions where we invite you to bring along your "hot topics" and "burning issues" for our poll on the topic of the day. If you want to propose a topic in advance then visit the Serendipity Wallwisher and add your topic. Then join us on Thursday Nov 25th at 23:00 GMT/UTC (6pm USA EST, Midnight BST) or Friday Nov 26th at 1am CEST, 7am West Aus, 10am NSW, depending on your timezone – in the usual Elluminate room
In the Future
If you are a regular visitor to our webinars you will know that we alternate "Fine Focus" sessions on specific topics with "Serendipity" the unconference sessions where we choose a topic by poll at the start of the session. Sometimes the very fact of being asked for "hot topics" or other ideas for discussion or learning tends to make our minds blank. This has prompted me to start a Serendipity Wallwisher for topic suggestions. Please visit the wall and add your ideas for Serendipity topics so that we have more choices to consider. Some of these ideas might also form the basis for future "Fine Focus" sessions.