Introduction
For this  recorded Serendipity unconference webinar we had a great selection of topics with the final consensus being a blend three related ones chosen for the discussion. The topics were:
Are text books redundant?
High tech or low tech?
Role of technology in education?
For me and I think perhaps for most of us in the session these three are closely linked so considering them together was an effective strategy.
The Session
We decided to take a blended approach with one whiteboard containing all three titles for ongoing thoughts and ideas rather than try to split them up and keep flipping between whiteboards. There is potential in this kind of discussion for using three boards and enabling "roaming" so that participants can move between whiteboards at will and add their ideas to the relevant board.  However the several new Elluminate participants in the session would perhaps have been somewhat disadvantaged by this.
While the whiteboard gives a snapshot of the session the recording will give a much more complete and rounded picture of the discussion. There were several participants without microphones so the text chat was very busy, we also had great audio contributions.
Conclusion
A terrific session with lots of interaction and many ideas presented and shared
The session topics and link to the Elluminate/Edublogs Community Partnership Elluminate room can be found here and also usually on the following calendars:
Edublogs Webinars (scroll down for the calendar)
LearnCentral under Events or the Australia Series
Next Session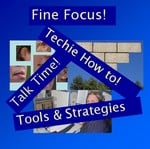 Our next Webinar is an Edublogs "Fine Focus" session. This week in "Face to Facebook" Jane Curry will Elluminate you with ideas on how to use Facebook with ESL youth. There are so many ways of collaborating on FB with a group of students, teachers, volunteers and social workers and other friends. Photography, discussions, posts, chatting, links to wallwisher, youtube, events and that's not all!! Collaborative teaching and learning, ….we are all learning.
Jane is an ESL teacher at Swinburne TAFE (public vocational education) in Melbourne, Australia & is working with Migrant refugee youth. Jane developed an interest in media and literacy when working in remote bilingual aboriginal schools in the NT in both primary and adult edn. She is now transferring those skills and ideas for teaching and learning in a collaborative way to her youth class using Facebook, Edublogs and online Web2 tools. The Youth Program also have support from  Foundation House and CMY with a focus on employment skills and work experience.
.Join us on Thursday Nov 4st at 23:00 GMT/UTC (7pm USA EST, Midnight CET) or Friday Nov 5th at 7am West Aus, 10am NSW, depending on your timezone – in the usual Elluminate room
In the Future
If you are a regular visitor to our webinars you will know that we alternate "Fine Focus" sessions on specific topics with "Serendipity" the unconference sessions where we choose a topic by poll at the start of the session. Sometimes the very fact of being asked for "hot topics" or other ideas for discussion or learning tends to make our minds blank. This has prompted me to start a Serendipity Wallwisher for topic suggestions. Please visit the wall and add your ideas for Serendipity topics so that we have more choices to consider. Some of these ideas might also form the basis for future "Fine Focus" sessions.