Introduction
This was an Edublogs "Talk Time" around whether Twitter should, or should not, have rules and/or ground rules. You can find the session recording here.
The Session
We started out by checking that we had a common understanding of the terms "rules" and "ground rules". This was followed by quick poll to see how many people thought that Twitter should have one or the other or both.
The main part of the session was occupied with why there should or should not be "rules" or "ground rules" for using Twitter and with ideas on the rules and ground rules that people thought were particularly important or essential.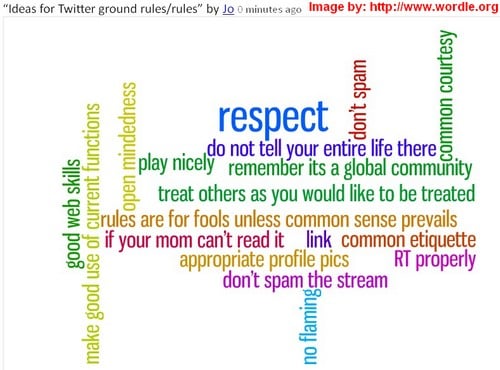 The session finished with some encapsulations of Twitter in nine words and a revisiting of the initial poll question on whether Twitter should have rules and/or ground rules.
Conclusion
As always with discussions about Twitter this was a lively session. I find that "Talk Time" sessions are great for giving the opportunity for a more structured look at a topic than Serendipity. However I always have an underlying fear that I am being too "bossy" in structuring and keeping the session moving along. I suspect that this may be a result of consciously trying to ensure that these sessions are different from "Serendipity" and that they have a clear focus and direction in contrast to the unconference, go where you will, format of "Serendipity".
Next Week
Our next Webinar is an Edublogs "Serendipity" session, one of our fortnightly unconference sessions where we invite you to bring along your "hot topics" and "burning issues" for our poll on the topic of the day. If you want to propose a topic in advance then visit the Serendipity Wallwisher and add your topic. Then join us on Thursday Aug 19th at 23:00 GMT/UTC (7pm USA EST, Midnight BST) or Friday July 20th at 1am CEST,7am West Aus, 9am NSW, depending on your timezone – in the usual Elluminate room
In the Future
If you are a regular visitor to our webinars you will know that we alternate "Fine Focus" sessions on specific topics with "Serendipity" the unconference sessions where we choose a topic by poll at the start of the session. Sometimes the very fact of being asked for "hot topics" or other ideas for discussion or learning tends to make our minds blank. This has prompted me to start a Serendipity Wallwisher for topic suggestions. Please visit the wall and add your ideas for Serendipity topics so that we have more choices to consider. Some of these ideas might also form the basis for future "Fine Focus" sessions.