Introduction
As with a session a few weeks ago I was laid low by a migraine and find myself writing an overview for a session I didn't attend – as I said at the time recordings are a wonderful thing! My overview is written from listening to the recording but really this is one you need to hear for yourself.
The Session
The two suggested topics of: 21st Century Skills in the elementary classroom; and getting started with blogging in an education context seemed to merge quite easily into one.  This was a very relaxed conversation in a small group discussing ideas and where each person is currently with their students. It developed into planning the basis of a future classroom collaboration between participants.
Conclusion
This was a fantastic example of Serendipity in action! A group of people looking for similar outcomes and actually starting to develop their classroom collaboration in the session.
Next Week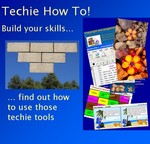 Our next Webinar is an Edublogs "Fine Focus" session a "Techie How To" – "Layering with GIMP!" an interactive session in which we invite you to explore using layers with the GIMP. This is for those who want a rather more sophisticated (but still free) image editor than Photofiltre (our topic a couple of weeks ago) .
Join us on Thursday July 15th at 23:00 GMT/UTC (7pm USA EST, Midnight BST) or Friday July 16th at 1am CEST,7am West Aus, 9am NSW, depending on your timezone – in the usual Elluminate room
.