This recorded session was for "eT@lking" organised by Ann Mirtschin and Carole McCulloch in the "Australia Series"   – itself a relatively recent LearnCentral opportunity intended to facilitate the provision of more Webinars at "Australia friendly" times. The reference to Australia in the title refers only to the timing and perspectives from around the globe are definitely most welcome!
Ann has given a great overview of the session in her discussion posting on LearnCentral NB you do have to be a logged in member of LearnCentral to access this, and now in her blog also.
For me this session was very different from my regular Edublogs webinars. This was for a couple of reasons:
I wasn't in the "hot seat", yes I was the presenter and yes I was a moderator but the lead moderator/session manager role was brilliantly undertaken by Ann and Carole;
For the first time in many months I was talking explicitly to my peers about what I am doing with my own students in the here and now.
I so enjoyed this session! Sharing what I am trying to do and seeking feedback from other educators a number of whom have experience with similar target groups either in Certificates in General Education or other contexts was a great "industry contact" experience.
I started with a bit of context setting as I find that even some Western Australians the majority of whom live in the Perth Metro area find the rural situation hard to understand.  Then I asked for thoughts about what challenges had to be managed. This produced a lot of ideas on the whiteboard that made a neat Wordle …
… that closely matched what I have found to be the issues I encountered in trying to get the e-blend approach off the ground.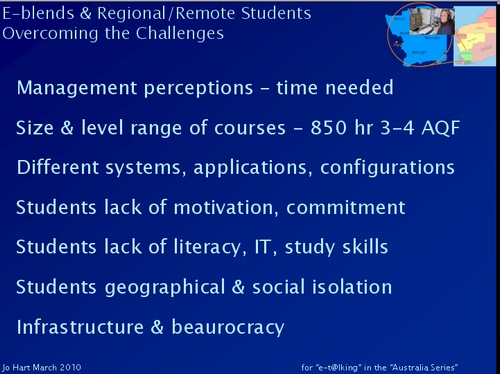 We then moved on for a quick look at some of the strategies I had used to try and overcome the issues. This included sharing some pages from the Learning Management System. I had hoped to give someone else control of my desktop and ask them to move through some pages but time was too short to do this. I ended by asking if the group thought my strategies went some way towards addressing the challenges and asking for suggestions and ideas about what else I might do.
I was very conscious that as usual I had planned an awful lot to fit into the time so I tried to keep the session moving along at a good pace while still giving opportunities for interaction. The session felt lively and interactive to me and included a lot of text chat interaction and questions. However as always when presenting I think I am too close to my material to be truly objective. I certainly think I went a little too fast when using Application Share and hope that everyone was able to see the screens that I shared. Final comments from the participants …
… were very positive and indicated that people found what I was doing interesting, relevant to my learners  and useful.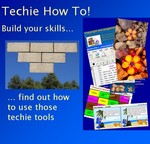 Our next Webinar is an Edublogs "Techie How To!" session "Feed Learning with a Hot Potato!"  In this session we will take a look at and have a "play" with Hot Potatoes. Despite a comment from someone on Twitter recently that it is "very tired and outdated" I still use Hot Potatoes to make interactives for my students. It is easy to use; works well for many of the activities needed to develop reading and writing skills and; I can upload the products easily into the Learning Management System.
Join us on Thursday April 8th at 23:00 GMT (7pm USA EDT) or Friday April 9th at 7am West Aus, 9am NSW, 1am CEST depending on your timezone – in the usual Elluminate room.
.