The topic chosen in Edublogs Serendipity Webinar this week was "Teaching technical subjects in a non-technical way". This generated a really interesting discussion with many great ideas expressed in text, on the whiteboard and over audio, Catch up with the recording for all the details – the Wordle below gives a flavour of the discussion.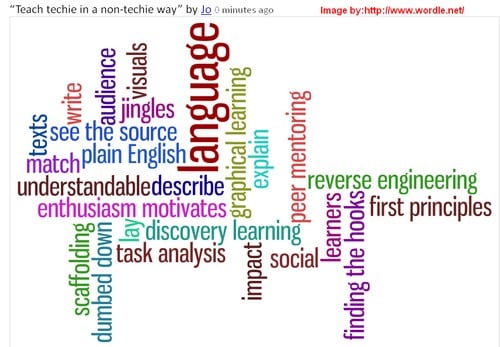 Our next Webinar is an Edublogs "Techie How To!" session "Add-on Value to Firefox" by guest presenter Shelly Terrell, Shelly (technology teacher, trainer and social media consultant) will explore some of her most valued Firefox add-ons.
Join us on Thursday February 25th at 23:00 GMT (6pm USA EST, Midnight CET) or Friday February 26th at 7am West Aus, 10am NSW, depending on your timezone – in the usual Elluminate room.
.