Our recent Edublogs webinar, (watch the recording for the whole session) 3rd or 4th of December depending on your timezone, was another in the occasional series about some of the features of Elluminate. As you probably all know by now I love Elluminate and am always happy to show how powerful it can be as a teaching and learning tool.
A few weeks ago one of the possible topics that was suggested for our webinars was "more on Elluminate", someone else had also mentioned that they would like to know about breakout rooms. This made for a simple choice of topic and one to make me think! Using breakout rooms when you have no idea how many participants, or what level of Elluminate experience they will have, can be quite challenging. For me it's also important that these sessions are interactive for the participants – I very much dislike sessions which are "death by powerpoint" transformed into Elluminate. That approach seems to me to waste the potential of Elluminate and to perhaps be better served by just making a 'cast of the slides with voice over and not using Elluminate at all.
We were a little late getting underway – being a very small group – we hoped others might join. However the conference season is in full swing so we remained a small and select band. I started the recording – I almost forgot and was reminded (many thanks!) by someone in the group. We began with a quick poll on usage of breakout rooms. This was followed by a  rundown of the features of breakout rooms and the moderator's role in managing them.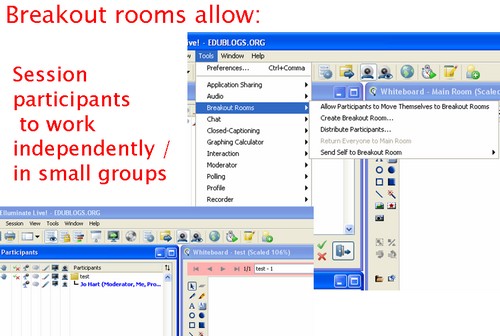 Then before everyone could fall asleep we moved on to trying out breakout rooms. I had pre-created two rooms each with a whiteboard question about possible uses for breakout rooms. See "Did you know? Elluminate – Breakout of the mould!" for more detail on the how, when and why of breakout rooms. The current version of Elluminate allows the moderator to give participants access to move themselves to rooms, so after inviting participants to put their virtual hands up I asked them to move to a room based on the order hands were up. They had ten minutes to brainstorm ideas in response the their question. A busy ten minutes for me – "flitting" between the rooms to check that they were all OK with the features. At the end of the brainstorming time I "beamed" everyone back to the main room.
Oh dear! All that lovely brainstorming was on the whiteboards in the breakout rooms. Never fear Elluminate had the answer. We copied and pasted the complete whiteboards into the main room while application sharing so everyone could see how it was done. There were a variety of great ideas about the uses and contexts in which breakout rooms might be used. The next step was the anarchy phase – give everyone moderator rights so they could create their own breakout room and try a task and a copy of their whiteboard to the main room. As always this produced a few glitches but it's always fun when everyone goes "feral" and "plays" without always realising how much power they have as a moderator. We ran short of time so didn't get this activity finished – something that often happens when everyone is moderator.
For more detail on the "how to" of  Breakout Rooms see the related post "Did you know? Elluminate – Break out of the mould!
Feedback was very postitive – people always seem to greatly enjoy the interactivity and the opportunity to try things out. So there will definitely be more on Elluminate interactivity options in the future. Join us in the Elluminate room next week 10th/11th for a Serendipity unconference session and for our last session before the Xmas break on the 17th/18th December depending on your timezone. See the Edublogs calendar for information about the last session – our Elluminate end of year party, where we invite you to get interactive with party games! We'll be back "virtually" after the break on 7th/8th of January 2010.